[title_nd tag="h2″ style="subtitle" align="left" title="Founder Christopher Jolly talks about Jolly Learning " color="#868585″]
[divider_nd size="small" align="left" color="#74cee4″]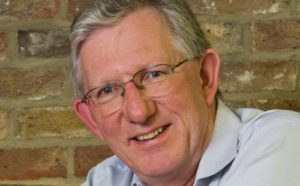 Jumping for Jolly
by Stacy Liu1 Jan 2012
Jolly Learning is an independent British publisher promoting the synthetic phonics method to develop children's literacy skills. From humble beginnings, Jolly Learning now sells over two million publications across the globe each year and has since ventured into teaching music to children.
Founder Christopher Jolly talks about the history, inspiration and methods used in Jolly Learning.
[title_nd tag="h3″ style="subtitle" align="left" title="MOST FREQUENT QUESTIONS" color="#868585″][divider_nd size="small" align="left" color="#74cee4″]
Please tell us a little about yourself and your background.
After graduating in the UK I taught in Malaysia for a couple of years, first at the Victoria Institution in KL and then in a rural school in Terengganu. It was a most enjoyable time. I even learnt to speak Bahasa, though I have forgotten most of it now. On my return to the UK I worked in consumer marketing for many years and then started Jolly Learning in 1987, so almost 25 years ago.
What is the inspiration behind Jolly Learning?
I was particularly interested in the teaching of reading. There were conflicting voices about how it should be taught, and a record of failure for many children. As a result it seemed a promising area for innovation.
How did Jolly Learning come about?
I approached the person who was then the leading expert in the teaching of reading, a lady called Betty Root. I had suggested the idea of a series of book-and game products for young children. She liked the idea and we got on well.
She wrote them and I had someone illustrate them. I then had them made and sold them. They were moderately successful.
You met the founding author of Jolly Phonics, Sue Lloyd, at a conference in 1989. What was it that attracted you to her ideas when many Were skeptical at first?
What impressed me was that Sue Lloyd said she got excellent results in teaching reading. She said she used phonics, which I knew something about, and which I knew was linked to good results.
She also said that no one was interested in her results which obviously made it interesting. The skepticism was also a challenge, but it soon became apparent that teachers and parents did not have these worries. It was the educational authorities who were anxious.
There are three types of Jolly Products – Jolly Phonics, Jolly grammar and Jolly music – hoW does each Product Work to assist a child's learning?
Jolly Phonics is for the first year or so of a child's learning to read. They learn the letter sounds of English and how to use them for reading and writing. Jolly Grammar is for the following years. It continues the structured teaching of language, but much broader.
The phonics is still there for spelling but so too is punctuation, parts of speech, dictionary use, etc. Where Jolly Phonics is about teaching reading and writing, Jolly Grammar is about expression and comprehension.
Jolly Music on the other hand is very different. This teaches music to young children through singing. In a structured programme they are taught pitch (high and low notes), beat, rhythm (all the notes, not just the beat) giving them a good understanding of music. It is the best way to start, and can laterlead to learning an instrument for those who wish.
What are the benefits of using the Jolly learning materials?
Our approach has always been to be multi-sensory, so with kinesthetic activities, with the voice (singing or sounding) and with reading and writing. We also have structured teaching programmes with progression.
The result is that children learn faster, that they all learn, and that they really enjoy it. The structured multi-sensory approach is very effective.
How did you start to develop each of the products?
With the authors we look at new opportunities, and new needs, and from there we develop the products needed.
Our authors write and visualize them and my editors create the products from that, drawing in illustrators and other experts as needed. Jolly Learning started with Jolly Phonics; soon after Jolly Grammar was introduced as a structured grammar programme to continue supporting children who started learning with Jolly.
But how did Jolly music come about? did you always intend to have a programme to teach children about music? Was it a natural Progression for Jolly music to be introduced?
While music may appear different it does have some close similarities. Like phonics, music is a subject that most teachers do not feel confident about. It is a structured subject with technical terms and where you need good subject knowledge.
It was attractive because we felt we could make it accessible for all teachers. We based it on the teaching of a Hungarian musicologist called Zoltan Kodaly who believed that all children should learn music through the singing ofchildren's playground songs.
So this provided the foundation we needed, to provide structured multi-sensory material for the kind of teaching.
How can parents use the Jolly learning materials to assist their child?
It is very helpful if the parent is knowledgeable and supportive to their child when they learn to read. At the same time Jolly Phonics materials are easy to use and do not require the parent to become the teacher. A few tips at this stage may be helpful.
The parent should be aware that the child needs to begin by learning just the sounds of the letters, not their name. Then they should know that the sounds can be anywhere in the word, so 's' as in 'nest' as well as 's' for 'sun'.
Finally they should expect their child to be able to read a new word by sounding out and blending (so d-o-g makes dog) rather than memorizing.
From what age can a child start using the Jolly Learning materials?
It is possible to use them with a child age three, though for the write-in materials not before age four. At the same time the materials are fine for older children, up to about age 8.
If a parent is new to the Jolly Learning materials, which product would you recommend they start with?
The Jolly Songs are a good start, along with the Workbooks and the Jolly Stories. The DVD is nice to watch and there is a Games CD for endless play. For the enthusiast there is the My Jolly Phonics kit which has all of these.
How can Jolly Learning be used in schools and at home?
At school the best results come when Jolly Phonics is used swiftly and right from the start. We recommend teaching a new letter sound in each lesson.
At home the child will not have lessons as such, but instead good results will come when the child is helped to recognize and use the sounds in words in everyday opportunities.
What's next for Jolly Learning?
I would like to provide material for remedial teaching of reading, for children who especially need extra help, and this is something we are working on.